Guys... I'm back! It's been about a month since I actually blogged. I think the stress of the new job, being sick and the looming idea of Christmas just stressed me out to the point where I lost all motivation to hop onto the computer. Thankfully, my work is becoming second nature now, I'm not sick anymore and I can actually enjoy the idea of Christmas coming up. I can't believe we're already in December - this year truly feelings like it's just swept by.

I decided since I didn't treat myself to any of the beauty advent calendars last year, I was going to get this all this year! Well, not all of them but some of them at least. I settled on three major ones for the entire month but also caved and grabbed a smaller "12 days of Christmas" one.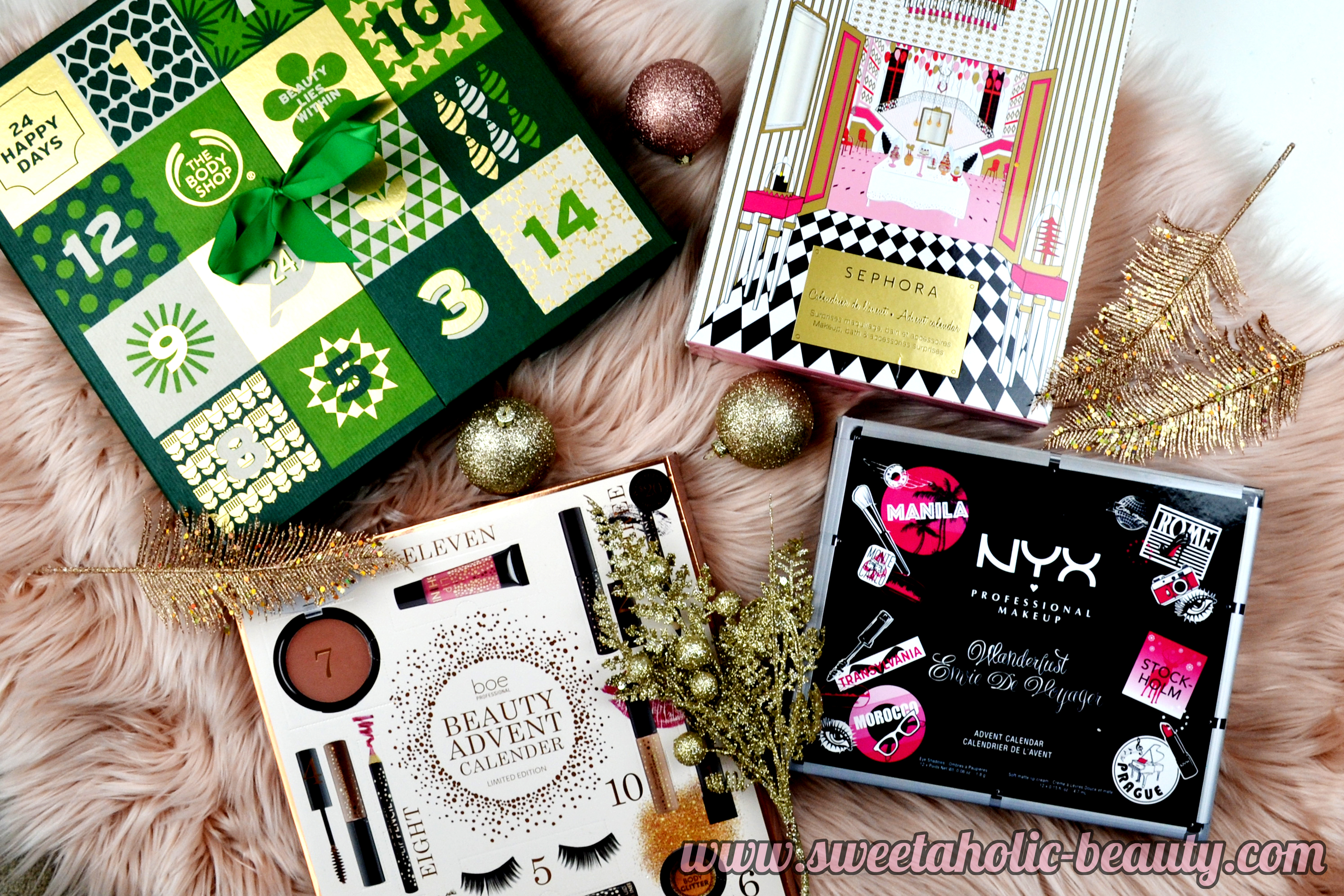 The advent calendars I grabbed are almost too cute to open. It's already the 5th of December and I still hadn't documented any of my new goodies on social media until today. Make sure you're following along on my Snapchat (sweetaholic01) to find out what's inside each day.
The first advent calendar I was dying to get my hands on was the. I wasn't sure this would even be available in Australia but when I saw my good friend Leah from Temporary Princess had gotten her hands on it, I knew it had to be available. I popped into store and voila - there it was. I was expecting it to be out of stock but they had plenty there. It wasn't even really advertised well in the store so it could be that most people walked right past it. This baby cost $55 in-store.

The next advent calendar I really wanted was The Body Shop Advent Calendar. This is the cheaper, smaller version but equally as gorgeous as the other one. I really wanted this one last year but by the time I discovered it's existance it had been completely sold out. Not this time! This one retails for $139.00 and is available online and in-store.



I didn't really hear about this one until I saw so many beauty bloggers posting about it. I love NYX Cosmetics so it was a bit of an impulse buy when I saw this still in stock - I mean, how could I resist? This looks super cute and I can't wait to show you what's inside. This one retails at $99 and is available in-store only at Priceline.


Lastly, I couldn't help myself when I saw this adorable 12 Days of Christmas Boe Beauty Advent Calender. My local Big W doesn't stock cosmetics (which is really frustrating as I can't get my regular fix of Boe Cosmetics) but they surprisingly stocked this. At only $20 available in-store, how could I say no?
--
I'm so exicted to get stuck into these ones. I'll be posting all my mini openings on Snapchat but I'll post a little recap each week of what I got on Instagram so that you all don't miss out - so make sure you're following me on both channels to keep up to date with what I get!
Have you grabbed any Beauty Advent Calendars this year? If so, which ones did you get? Are you keen on getting any next Christmas?
--